Archon Men's F21 Steel Toe Work Shoes
Free Shipping
Free standard shipping on orders over $99
Due to the COVID-19, the shipping may take a little longer than before.
Our goal is to offer you the best shipping options, no matter where you live. Every day, we deliver to hundreds of customers across the world, ensuring that we provide the highest levels of responsiveness to you at all times.
The time frame for order delivery is divided into two parts:
Processing Time: Normally 2-4 Business Days
Standard Shipping Time: Normally 14 -30 Days
Express Shipping: Normally 7 - 18 Days
Receiving Time = Processing Time + Shipping Time
Processing Time: The estimated time it takes to process your order.
Shipping Time : The estimated time it takes to deliver your order
Any question please email us contact@espnman.com we will reply you in 24 hoursr
30 Day Returns
To guarantee the best customer experience, for items received within 30 days, unopened and in perfect condition, if you no longer want them, you can contact our customer service team and we will arrange a return as soon as possible. For quality problems found within 30 days of after-sales warranty, please contact us immediately and send us a clear picture of the defective item. We'll replace it once we're done checking. For more details, please review our Returns and Refunds Policy.
Any question please email us at contact@espnman.com we will reply you in 24 hours.
customers are viewing this product
Description

The Most ComfortableandFashionable Tactical Shoes
No more heavy. clunkytactical boots that leave your feet more worn & torn than the shoes themselves. Get tothe tactical field in style withtheseSteel Toe and Puncture-Resistance Sneakers
The all-in-one solution to tactical shoes that provide a perfect blend of comfort. style and protection.
Lightweight. reinforced protection provides everything you need to get the job done without tiring your feet or struggling to walk.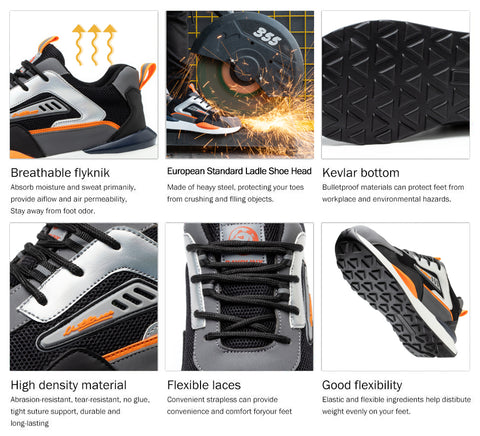 Features
Rubber sole

MD Rubber sole£º Clear texture design. stable grip on the ground. and non-slip and wear-resistant.

Steel Toe Cap Shoes£º European standard steel head impact resistance of 200J

Kevlar Midsole£º These steel toe shoes are made of Kevlar. which is a protective fiber material. It can protect feet from being punctured by sharp objects like nails. steel bars.

Ultralight safety shoe£º It is like the weight of a pair of running shoes. They can help you to work happily all day without exhausting your feet. With super soft insoles and High elastic sole. your feet are safe and comfortable. Flying knit upper is very soft. Keep your feet comfortable and breathable.

A heavy pair really sucks for those tortured by hard-working days. These flyknit safety shoes never pose any burden to feet due to the overall lightweight system which includes technically advanced flyknit upper and premium rubber sole. Great for those working in the industry. auto manufacturing. construction. and machine manufacturing.